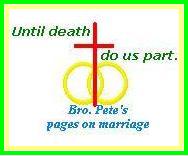 Help! I Am Divorced!
I have heard sometime ago that it has been said that divorce is a fate worse than death. No doubt that this is another reason why Christ did not permit divorce, for He knew of the bitter pain it would cause. He also saw the heartbreak and pain children would go through in such calamities. He saw, too, the sorrow and trouble of many who then try to raise children on their own. Surely this was not God's intent for all this heaviness in a person's life.

Our God, as we trust Him, is a healer and a comforter and is well able to help you during this extremely sorrowful time. The fact is though, no matter what we have done or what has happened to us, we have to follow God's plan to truly be happy and please Him.

Part of that plan includes his forgiveness. We all need that. You may need it. Your spouse may need it. First go to God and let Him examine you. Let Him tell you where you have erred. That comes first before we can deal with anyone else, and, honestly, no one is perfect, including me, including you. Whatever God shows you, ask for His forgiveness and for His cleansing. If you have not done so, accept Christ as your personal Savior. Make Him first in your life. If you click on this sentence, another window will open and explain this blessed promise to you.

Once we are cleansed, we can pray for others. Ask God to give you a forgiving spirit towards your spouse. For more help on forgiving, click on this sentence and another window shall open with the information.

If neither of you are remarried, I affirm to you that no matter how dark the situation is, there still is hope to reverse the horrid situation you find yourself in. Again, I invite your attention to another window that will emerge as you click this link: BASIC Help For The Marriage Under Attack. There is a link there to a companion page that gives even more detailed information to help you.

If you are remarried, you are at the wrong page! Click on this sentence and you will get the Biblical instruction intended for you.

I have plenty of information on this on other pages, the links being listed to the right. As you check out the Scriptures you will see Christ never recognized divorce as dissolving a marriage. Only physical death can do that, AND THAT DOES NOT MEAN WE SHOULD SEEK PHYSICAL DEATH OR CAUSE THE PHYSICAL DEATH OF OUR SPOUSE. No matter what the paperwork says, God says you are still married to each other, even if one or both remarries. That is why, as you honestly read Luke 16:18, divorce + remarriage= adultery. Cry out to God, falling upon His abundant mercies towards us. Hopefully you have already done this, but now, by coming to this site, you have more tools and knowledge to work with. I have already laid the foundation for this dependence upon God in the above paragraphs but here are some more pointers:
Determine that you will not remarry unless you are reconciled to your spouse.
By all means, get angry at satan and fight back in prayer.
Fall in love with Christ Jesus. True Christianity is to be based upon love anyway. Seek the presence of the Lord. More on this below!
If you work and have children seek His face as to what to do for childcare.
Seek out a true Christian church that follows the Word of God on marriage. A true Christian church believes in one God as Trinity, the Bible is the Word of God, Jesus is the ONLY way to God, salvation is by grace - not by works, and God commands and enables us to be holy. Seek one too that will help you with your children.
Get busy serving God and stay busy. Fill your day with service to God. If you have children, your loving care of them is great service to God.
Seek out a group of true Christians or a true Christian that knows how to intercede in prayer and share with them your needs. In such prayer, avoid being alone with or getting attached to a member of the opposite sex.
Every Christian should be doing this, but I wish to encourage those who are divorced to get even closer! Of course, you have to surrender to Him as your Savior if you have not done so.

Realize that anyone can get as close to Jesus as they want to. It takes loving Him and often our love to Him is expressed in our obedience to Him. Your life may be filled with sorrow and trouble but force yourself to worship Jesus. Praise Him for His faithfulness and steadfast love.

As you shower our Lord with praises and thanksgivings listen carefully within you for any direction from Him. Keep in mind though that what you THINK you are hearing from God must comply with His written Word. No one is above the Word of God.

God may instruct you to do some things that may be difficult for you to do, but, understand that when God instructs us He equips us with the power to follow through: that is, if we accept that power.

Even though you may have made errors and have sinned God loves you with a tremendous love and desires you to love Him back (this is true for anyone). Tell God that you love Him, in fact, use the Scriptural term "Father". Some of the most endearing verses in the Word of God are...


Romans 8:15 - "For ye have not received the spirit of bondage again to fear; but ye have received the Spirit of adoption, whereby we cry, Abba, Father."

AND

Galatians 4:6 - "And because ye are sons, God hath sent forth the Spirit of his Son into your hearts, crying, Abba, Father."

The Bible records Jesus Himself praying in this manner...

Mark 14:36 - "And he said, Abba, Father, all things are possible unto thee; take away this cup from me: nevertheless not what I will, but what thou wilt."

You Might Be Wondering If
Jesus Christ Is God Is He
Praying To Himself Here?

That seems illogical at first doesn't it? But consider that there is only one you, right? Do you not communicate within yourself? The Scriptures say we do; here are just a few: Ps. 62:5, 103:2, 103:22, 104:1, 104:35, Lk 12:17, 19, Lk 7:39. We, ourselves are three in one, viz., namely body, soul, and spirit (1 Th. 5:23).

BUT THERE IS SOMETHING FAR MORE IMPORTANT HERE THAT EFFECTS OUR PERSONAL SALVATION

The Word of God points out that on our own, we can never please God (Isa. 64:6). We are all born hopelessly lost in sin, because our ancestor Adam, the first man, sinned. God, (Father, Son, Holy Spirit) veiled flesh upon Himself through the Son. The Son is also called the last Adam in 1 Cor. 15:45. The Bible records that Jesus was tempted in all points just as we are, yet, HE was victorious (Heb. 4:15 - please read it)! On the cross, Jesus took our sin and the punishment for our sin. If we ask God to forgive us for being sinners and ask Christ to come into us HE THEN LIVES IN US! ALL THE GOOD THINGS JESUS DID THEN RESIDES IN US - SEE GAL. 2:20!

Look at it this way: ever program a VCR? Also, you are using a computer program. You may not know how it works but you use it. Jesus is the program for our life!

What you see in the Scriptures where Jesus prays to the Father, says that He does the will of the Father, cries out My God, My God!, why hast thou forsaken me", etc. was all done by Jesus so that when He lives in us these same works come out from us and yield the wonderful fruit of the Holy Spirit!

Divorce is a horrible tragedy that happens to thousands. It should never happen, but it does. But, beloved, you are in a special place whereby God can use you in special ways. Some of the things I show you from the Scriptures may be hard for you to accept at first, and your flesh will understandably want to go the other way BUT THAT IS EXACTLY WHAT YOU ARE SEEING HERE IN THE GARDEN OF GETHSEMANE! Jesus realizes He is about to become the sins we have sinned (1 Cor. 5:21)! He retreats from this thought at first, but, because of His vast love for us, accepts this cup. Because He did this, we can accept the difficult directives of the Scripture that lead us to life!

In regard to the "My God, My God" cry from the cross, that was so that we can say the same within us with the same type of emotion. True repentance entails godly sorrow.

This point that Jesus obeys the Father for our benefit does not detract from His deity. I have done an extensive study on this and will upload it when I get a chance. I will let you know where to locate it on the Internet. When I do so, I will put the link here.




I understand that in Scotland some pray "Papa God." Indeed, you can have a close relationship with God full of love. He wants to be our companion now, and for all eternity. When you sin, if you ask, He forgives! Just do not keep walking in sin. 1 John addresses this whole point.

Though you are divorced, God can use you mightily, even if you have lot of childcare to handle. Do what the Scriptures instruct. Let God develop His fruit through you.

Some say that the Scriptures state it is not a sin to remarry. I have a whole page on that topic and the link is listed below. Some base their thoughts on the fact that God said it is not good for man to be alone. But, if we let Christ live in us and we in Him, we are never alone and, if we let Him, He meets our needs.

There are times that you will feel alone though, but keep in mind that even married people feel alone at times. Do not concentrate on the loneliness. The second you feel that coming upon you, force yourself to worship and praise God.

Make every attempt to live within Him every moment of your life!
Get Busy
Serving God
And Stay Busy!
If You Have Children
If you have children your greatest ministry is to those children! As they see you faithfully obey the Word of God, you will give unto them a great legacy.

Let us consider for a moment the state of the home. Divorce comes about by sins through our sin nature. Yes, your children have seen this. If you share some of the blame, after you go to God for forgiveness, admit to your children where you went wrong. If you have unduly blamed your spouse for things, admit that too.

Preteens and teens may rebel even more when there is a divorce. This is a repercussion of sin which you must ask God about how you are to deal with. Intercede for these children whereas their hearts have been crushed by the divorce you went through. If you have sought the forgiveness of God, He indeed has forgiven you. Now let Christ live through you. Intercede in prayer for your children.

If you share the main load for their care it may be that you have little time for anything else. But as you read the Scriptures you will see that your children are one of the most important things you will ever have. God has entrusted you with children and they should be raised to love and reverenced God.
And Otherwise . . .
Serve God in anyway possible. If it were me, I would try to be so busy serving God I would not have time to be lonely. I would try to make sure I am good and tired, ready for "lights out" and continue to commune with God as I lay in bed. Grant it, there is a time to relax, but leave no room for "lonely feelings."

Staying busy is one key that God showed me for overcoming depression. It works as a great safeguard for any element of self-pity.

The body of Christ continually needs people to serve in various capacities. Be faithful to your church services and be willing to serve in any capacity. I still remember the first year of my salvation when I did a "small thing" for the Lord. I went with the pastor and his wife to a mission in Newark, NJ. I was asked to hold a sign for the boys and girls that contained the words of a song they were to sing. I did. It felt good. I have cleaned bathrooms and toilets and messy halls. I have fried hamburgers. All was for Jesus. Service does not always have to be, nor should it be, in the "limelight."
Above All
Continue in WORSHIP and prayer. In worship, remember to fall in love and stay in love with Jesus. Things may be turmoil in your life at the moment, but if you let Jesus live in you and submit to His Holy Word, you will enjoy an inner peace within you. Peace is the third fruit of the Holy Spirit mentioned in Galatians.

Maintain that close walk with Jesus Christ everyday. The Good Shepherd wants the best for you!
A Suggested Prayer
Sometimes, especially in difficult situations, we may find it difficult in regard to as how to pray and what to pray for. At the beginning of this page Ipresented some things for you to consider, and, as they apply in your situation, pray according to the leading of the Holy Spirit.

For those that may not know how to pray, here is just a guideline prayer to go by. Use your own wording and let the Holy Spirit lead you in prayer.


Father, I thank You that Your love is unwavering and that You are faithful and true. I thank You so much that You are forgiving and the God of reconciliation. I ask You to forgive me where I have sinned and failed. O Father, I ask You to take out the bitterness and pain that I feel. Heal me now, O Lord, for your Name's sake. Help me to forgive my spouse. I need your help to do this Father. I know that You want us to forgive.
Father I pray for my spouse that you soften his / her heart to receive Your love and forgiveness. Touch his / her mind that they will think as You think, and I pray the same for myself. Help my spouse to be forgiving too.
Father, draw us back together [or, if you still find that hard to pray, "Father, touch our hearts and our minds that we may forgive each other and return to each other."]
Father, I thank You for Your love and Your grace and I pray these things in the Name of Jesus, Amen.
A Prayer For You
Forgive, and ye shall be forgiven. -

Jesus Christ (Luke 6:37)
Father, you see this one that has come to this site and to this page. You know their thoughts that trouble their minds. Father, in the Name of Jesus, I ask that You touch such a one in a such a way that they sense your vast and holy love that you have for them. Father, Your Son has promised that He would never leave us or forsake us. O Father, we realize that our fellowman is tainted with sin and thus is prone to fail You and others. That is one reason why we place our complete trust in you. But, Father, You are gracious and we ask Your forgiveness, and, help us to forgive those that have hurt us, in Jesus' Name we pray, Amen.
Return To The Top or ...

Click Here If You Feel Rotten About Yourself

BASIC Help For The Marriage Under Attack

Tools For The Marriage Under Attack

Shall I Remarry After Divorce?

Invite Jesus Into Your Life / Lives

Return To The Marriage Pages Index

Return To The Front Page


Images ©2002 Peter Macinta, all rights reserved. Must have permission to copy and use.
Text ©2002 Peter Macinta, you may copy, store, redistribute, UNCHANGED in content and not for sale.