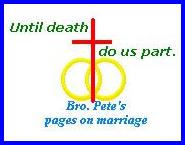 Remarry After Divorce?
Honestly ask yourself if you want God's answer to this question. If you do, continue to read. If not, you still should.

Whosoever putteth away his wife, and marrieth another, committeth adultery: and whosoever marrieth her that is put away from her husband committeth adultery.-Luke 16:18

And he saith unto them, Whosoever shall put away his wife, and marry another, committeth adultery against her.
And if a woman shall put away her husband, and be married to another, she committeth adultery.- Mark 10:11-12

The wife is bound by the law as long as her husband liveth; but if her husband be dead, she is at liberty to be married to whom she will; only in the Lord.- 1 Cor. 7:39

You have just read what GOD says about remarrying. If you wish to read a different answer, you have to ask someone other than God.

But didn't Jesus permit divorce? You will find the Biblical answer in this link to the left, but if you are convinced He did permit divorce, the verses above clearly deny remarriage.

This has been one thing that has irritated me throughout these years. Some people want to believe in divorce simply to have what they think is a free ticket for remarriage. No such thing. If you remarry while a former spouse is alive YOU ARE COMMITTING ADULTERY.

Doesn't 1 Cor. 7:2 states that each person should have their own spouse? Click this link to get that Biblical answer.

Poor, liberal hermeneutics (Bible Interpretation) will get you a different answer. I would not want to be in the place of those that twist the Word of God to cater to the sinful cravings of society.
BUT GOD TOLD ME TO REMARRY!
How can that be? Is God going to contradict His own clear Word as seen above? It clearly says Whosoever putteth away his wife, and marrieth another, committeth adultery. Whosoever means whosoever: saved or unsaved. GOD NEVER CONTRADICTS HIS WORD. Some may feel that it is ok to remarry because they were unsaved when they were divorced: they then accepted Christ and all is forgiven. Yes, you are forgiven, but that does not dissolve your marriage. Only physical death dissolves marriage. Jesus was perfectly clear on this. It is true that we become a new creation in Christ when we get saved but this grace of God does not remove historical fact on earth nor does it dissolve a marriage bond.

Somehow there has developed a generation of Christians that avoid the clear and simple Word of God to cater to sinful desires. The only way to circumvent the above Scriptures is by man's word responding to the enemy's subtle question "Yea, hath God said...(Gen. 3:1)." God says DIVORCE + REMARRIAGE = ADULTERY.

NOTE THIS CLEARLY: The liberal elements of the church will bear the direct responsibility of raising this generation of Christians who feel they are above the Word of God. They will bear it directly for each time a couple commits adultery by remarrying.

I am legalistic you say? Think about this: is it OK for me to rob a bank or kill my neighbor? That is forbidden in God's Word just as much as remarriage is after divorce. THE WORD OF GOD NEVER PERMITS REMARRIAGE AFTER DIVORCE, - ONLY AFTER THE DEATH OF THE FORMER SPOUSE/S. Legalism is not the enforcing the Word of God, but going beyond the Word of God in creating and enforcing rules.
But Someone Prophesied That I Should Marry
Please understand that just because someone prophesies or interprets a message in tongues does not mean that it is from God. There are false prophets. Someone operating in the Holy Spirit will not do or say anything contrary to the Word of God.

S u g g e s t i o n

Examine the Scriptures for yourself. Get a King James Bible, a Strong's Concordance, and look up all the passages on "divorce/d," "marry/ies," etc. Not once will you find permission to remarry after divorce. You will also see that Jesus does not recognize divorce as dissolving a marriage.

Just go to the Holy Bible and not to people and you will do fine!
What About When Hosea Married Gomer?
YHWH said to Hosea, Go, take unto thee a wife of whoredoms and children of whoredoms: for the land hath committed great whoredom, departing from YHWH.

-Hosea 1:2
Some might try to say that Gomer was previously married. A quick check into Strong's Concordance shows that a woman of prostitution could be meant here. Wilson [Wilson's Old Testament Word Studies, p.480] points out that this word can mean a married or unmarried woman. As you read Hosea, there was no indication that Gomer had been married before she married Hosea. Also, the phrase "children of whoredoms" is used here indicating that God was going to use the sinfulness of Gomer to portray the sinfulness of Israel. Read Hosea. After she is unfaithful to him he does not divorce her, but instead he redeems her in her most wretched state (Hosea 3:1).
So Pastor, What Shall I Do?
If you are not saved, that is, if you have not truly surrendered to Christ, please do so now. In so doing, it will enable you to better follow these instructions.
Fall deeply in love with Jesus. Worship and praise Him. Feast of His Word!
Find a church that really believes the Word of God. I strongly recommend a church affiliated with Zion Fellowship International (ZFI), or a church pastored by a minister of ZFI.
Get involved within the true Church, serving God as much as possible. Try very hard, with the help of God, to get busy and stay busy for Jesus.
I tell all Christians that our minds are the background for satan. All temptation must be channeled through our minds. Constantly involve your mind on only good and wholesome things (Phil. 4:8). Permit God to transform your mind with the mind of Christ (Rom 12:1-2).
You may have to break off some relationships to follow what God's Word says.
If there are children involved that you brought into this world you have a direct responsibility towards them. That you cannot break. Yet, do not remarry.
Praying For You
It has been said by those that have gone through divorce that it is an experience worse than dying. One of the reasons I have created these marriage pages is because I sense the hurt that many feel that have gone through a divorce. That is why my pages are so adamant on this issue. When it comes between true holiness and sin there is no in between, and for me to give in and go along with the liberal trend in the body of Christ may cause you to walk to damnation, with myself ahead of you. What you see on this page may be difficult for you to accept at first, but as you really love God and follow what I have above, you will find peace in your life.

In the meantime, you may have pain. Only God, in His Son, and through His Holy Spirit, can remove the cutting pain of divorce. Please, now and forever, trust God alone. As you fully trust Him, He will minister unto you.

I desire to pray for you now.

O Father, you see this one reading this page. I thank You that You are the God of all love and forgiveness, and that You are intimately acquainted with our ways. I pray for this one that has now come to this page and ask that You touch him/her. Remove the bitterness and pain. Pour in your soothing wine of the Holy Spirit. Help them to love You fully and to focus their lives upon You completely. Surround this one with Your loving arms even now and give to them a willing heart to obey Your Word. I Jesus' Name I pray. Amen.

Return To The Front Page


Images ©2002 Peter Macinta, all rights reserved. Must have permission to copy and use.
Text ©2002, 2012, Peter Macinta. You may copy, store, redistribute, UNCHANGED in content and not for sale.