Now turn in the Holy Bible to Zechariah Chapter 3. If you do not have a Holy Bible handy, I will outline the story here for you, but please read it for yourself later on. Zechariah is located in the Old Testament, between Haggai and Malachi, close to the end of the Old Testament.
Zechariah has this vision of the current high priest, Joshua (NOT to be confused with the Joshua who God used to bring down the walls of Jericho). Joshua stood before "The Angel Of The Lord" and Satan stood at his right side to accuse him. Exactly what the devil may be doing to you at this moment. He may be telling you that you are a fool, failure, worthless, etc.. But God has better plans for us if we are humble and accept His forgiveness and salvation.
The Angel Of The Lord then rebukes the devil. He then ordered others to take the filthy clothes off of Joshua and give him clean clothes. Clothing in God's Word often represents righteousness. Here we see God willingly takes the filthiness of sin away and gives Joshua a new righteousness. Zechariah is so excited about all this he cries out "and put a new turban on his head!."
What does this have to do with you? Well, if you feel worthless, filthy, whatever, sometimes we think that this is God punishing us. However, oftentimes it is Satan, rubbing our face into the dirt, especially when someone has hurt us or we have participated in sin.


At this point, realize that God loves you immensely, wants to remove the filthiness from you and replace it with His righteousness. Ask God now to forgive of anything you have done wrong. Ask Him to please remove the filthiness from you, and replace it with His righteousness, Jesus Christ, from the top of your head clear down to your feet!
This is possible because Jesus paid the price of our sins. If God promises to forgive us this way, why should we not forgive ourselves? Only in God can we find full forgiveness.
Before I came to know Christ, I was a terrible mess. At one point, I was a Satanist. If you feel that you need further encouragement as to whether God would forgive you or not, you may view my testimony.
Believe on His Name now. Pray . . .
If you sense you still need a good cleansing, it may be you need to forgive others. Ask God to reveal to you whether or not you harbor unforgiveness towards others.
If this is not the case, then cry out to God, making sure you are really believing His Word. Again ask God to rebuke Satan in the Name of Jesus Christ. Plead the blood of Jesus. Claim the blood of Jesus!
"And when ye stand praying, forgive if ye have aught against any,
Mark 11:25
"For if you forgive men when they sin against you, your heavenly Father will also forgive you.
But if you do not forgive men their sins, your Father will not forgive your sins."
Matthew 6:14 and 15
Husbands, in the same way be considerate as you live with your wives,
and treat them with respect as the weaker partner and as heirs with you of the gracious gift of life,

1 Peter 3:7
(In reality, the converse is true, viz., "Wives, . . . be considerate . . . so that nothing will hinder your prayers.")
There are hundreds more of Scriptures just like these. The message is very obvious. Forgive others, God forgives you. Do not forgive others, God will not forgive you.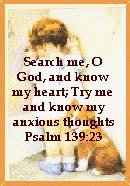 Though He commands us to forgive, we are still not "working our way to salvation": we still need God's help to truly forgive others.
Ephesians 4:32 teaches us to forgive others, just like Christ forgave us. The two preceding sub-topics I mentioned above (Let God Forgive You and Let You Forgive You) touch upon how Christ forgives us.
Yes, it is difficult at times to forgive someone else, but when we sincerely ask God, He will help us. You may have been hurt numerous times by someone, even without cause. It is part of our sinful human nature to harbor resentment, bitterness, thoughts of revenge, etc.
Jesus lovingly desires to free us from such heaviness. Holding on to such things will make us emotionally, physically, and spiritually sick.
Give everything over to Jesus now. You will never have real peace until you do so.
PRAY THIS PRAYER, MEANING IT FROM YOUR HEART:
Father, I know You love all people, including me. I'm having trouble right now forgiving [] for [] . Please help me to forgive this person/ them. O God, remove the bitterness, hatred, sorrow, vengence, and any other foul thing from me, and replace it with your love. O God, cleanse me and make me whole. Help me to love this person/ these people. Forgive me for my sins and I ask Jesus into my heart to cleanse me, and make me a new creation. Thank You Jesus for coming into my heart. I love You. Amen.
If you have prayed this prayer and meant it, you are a child of God.
See some steps in the right direction.
Back To Top
Real Health
Text ©2002 Peter Macinta, you may copy, store, redistribute, UNCHANGED in content and not for sale.
---
Do You Feel That You Have Committed . . .
Blasphemy Of The Holy Spirit?
Many know that the "Unpardonable Sin" is often referred to as the blasphemy of the Holy Spirit. Jesus has warned that those who have committed this sin will not be forgiven in this world or the next ( Matthew 12:31 ). Scriptures indicate that those who commit this sin have very hardened hearts. The very fact that you are here taking the time to read this is a pretty good sign that you have not committed this sin.
However, if you still feel that you have committed this sin, in my opinion, as I look at the Scriptures as a whole, the situation is not hopeless.
I feel that the Unpardonable Sin can be likened unto the following example:
If someone jumps off of a bridge to kill themselves, they most likely will not be rescued unless they want to be rescued.
Hebrews 6:4-6 seems dismal for those who have turned their back from God, but it is always good to read on. I see some hope in verses 7 and 8 which states that the thorns and thistles are in danger of being burned. Note that it does not say that they will be burned, just that they are in danger of being burned. If you were once a Christian and have gotten away from God, scroll down to "For Backsliders Only."
Back To Top
For Backsliders Only
Sometimes when Christians repeatedly, willfully sin, they feel that "they have pushed the limit" and can never come back to God again. Often Hebrews 6:4-6 is thought of and the picture there does seem quite bleak. However, I see a glimmer of hope in verses 7 and 8, which refers to the thorns and thistles as being in danger of being burned.. I notice that it says that they are in danger of being burned, not that they will be burned. We have a very merciful God.
Now if you were once a Christian, and deep inside you want to come back to your Father, the Scripture gives us much hope. No doubt you feel terrible. You feel like you could never do anything for God again. This is the Devil breathing down your back. He does not want you to return to God. When Satan tells you these things, think to yourself "Alright. I am backslidden, but I know that God is a good and merciful God." Then read this . . .
"Let everything that has breath praise the Lord."
Psalm 150:6
That includes unsaved people too! Go ahead and do it. God deserves it. Do it now. Sing to God. Make yourself do it. Also . . .
"Come near to God and He will come near to you."
James 4:8
Keep reading the Word of God and keep following the first step above (Praising God Anyhow).
Keep in mind if God has told us to forgive others multitudes of times ( Matthew 18:22 ), how much more willing will He be to forgive us. Go to the top now and read "Let God Forgive You" for additional help.
Yes, I believe there is hope for you even if you had a sex change, or are homosexual, or have AIDS. I even believe God can heal you from AIDS. The Holy Bible addresses homosexuality directly. You must turn to God and turn completely away from it. As far as those that have had a sex change, although there is no direct reference to this in the Holy Bible, I'm sure Jesus knew that these things would occur and there are other Scriptures that lay out principles that these people can also be saved and that certain actions may have to follow after they become saved. If you are one such person and you do become saved, seek out a God fearing Holy Bible believing minister for additional guidance.
Let's Overcome Depression
Text ©2002 Peter Macinta, you may copy, store, redistribute, UNCHANGED in content and not for sale.