REAL Love
Part 2
by Pete Macinta
NOTE: When I write "AGAPE", "PHILEO", "EROS", I include all their main forms / declensions in the Greek



In part 1 of REAL LOVE we learned that God in His wisdom created us with the capacity of three types of love, viz., AGAPE, PHILEO, and EROS.

We also saw that we were born with a sin nature and these three loves or at least two if you are not saved, may be out of place and may not be situated upon the sure foundation of Jesus Christ.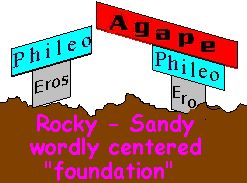 Sometimes our interpretation of Who Jesus is and why He did certain things is not centered upon the Word of God, but, upon human reasoning. The gray column to the right will give you an example of what I mean.

Sin disrupts our lives so that we lose fellowship with God and our relationship with others is on shaky ground with priorities out of order (as illustrated to the left.).