Throwback Thursday
Bumps, Blessings, Surprises And More
In The Boot Camp Of King Jesus
Click right here to go to the newest post. To be updated on or just after March 4, 2021.

The base for the map and the picture on the left in the above composite image courtesy of Google.
In this series read about . . .
… what happened during my first public sermon. It was a hoot! … what I saw in my parents' bedroom. … about a surprise from God in hermeneutics class: another reversal from life without Christ. … a death threat while on assignment. … how my wife-to-be miraculously made it to Bible Institute. … and a lot more in The Boot Camp Of King Jesus!
Post 1:
A Very Good Month!
If you have not done so, please the two previous series, viz.,
Countdown To The Week When Christ Saved Me,
and
What A First Year In Christ!
After I surrendered my life to Christ He changed me, and the path I was on. Before I came to Christ I was moved by evil. I was a failure and suicidal. After I came to Christ He called me to the Gospel ministry and saw to it I went to Northeast Bible Institute (NBI) in Green Lane, Pennsylvania. A lot of amazing things happened to me in my first year as a true Christian. Just over eleven months later my parents came to know God through Christ!
So in January 1971 I was in my second semester at NBI and, like the rest of the students, had only class since the school was on a 4-1-4 system. And, because it was a class on the Holy Bible itself, particularly an introduction to the Old Testament, I really enjoyed it. If you read the next to the last post in the previous series you would see that I saw what Abraham had basically seen regarding the Milky Way.
When my first birthday in Christ came, I looked back at all the blessings I had been through to that point, the foundational one being that He, in His mercy, permitted me to know Him, really know Him through Jesus Christ. Though I had been rejected by three colleges, I was now in Holy Bible institute receiving teaching in God's Word as well as ministry. I had a completely new life in Him. The realization of His presence and blessing later caused me to write in a King James Bible that I have that it was a "very good month."
As that semester ended and time rolled in to February, NBI students would expect a bill in their campus mailboxes. If you read back to the other series you will see I had saved enough money for the first two semesters. I had also acquired an on-campus job cleaning the school's kitchen. However, that would not give me enough to pay for the next semester. I had heard that in previous years some students had to leave because of finances.
The day came I received my bill. When I opened it, I saw that … the next semester had been paid in full by my parents! I am sure I greatly rejoiced over that! Now the money I was earning could be used to purchase things at the campus bookstore, particularly what was called Beuttler Notes on various topics and books of the Holy Bible. God willing you will hear more about brothe Beuttler later in this series.
Yes indeed, January 1971 was a very good month! However, I was about to encounter a little bump just as the third semester started.
Post 2:
Not THAT Subject Again!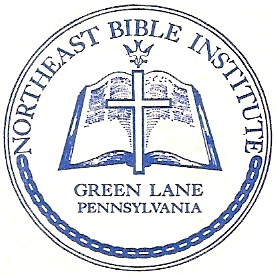 At the start of my third semester in my first year at Northeast Bible Institute (NBI) I received my list of classes and the master schedule for all classes. For that semester I would be taking Early Hebrew History (the historical books of the Old Testament) for 3 credits, Early Christian History (The Acts Of The Apostles and later Church history) for 2 credits, Theology I for two credits, Freshman English II for 3 credits, Fundamentals Of Public Speaking for 3 credits, Introduction To Music for 2 credits, and, of course, Physical Education which blessed us with half of a credit.
Everything looked appealing except for one class: Freshman English II. If you have read the last series you might recall that I had English, Grammar, or whatever you want to call it ever since first grade and was sick of it by now. I had to take in my first semester at NBI and now I had to take it again! Sadly, I was quite angry over this.
However, I consoled myself over the fact I had two Holy Bible courses and one theology course. Naturally I figured the public speaking class was needful as was Introduction To Music. Looking back, I have a suspicion that the Introduction To Music class was also used for evaluation for a certain school purpose. God willing I will share that in a future post, as well as a "hoot" in regard to another public speaking class I would take in my second year.
Books and classes were just part of the training. There was also "in the field training" otherwise known as Christian Service Assignments. Just after the third semester started I would soon receive a notice in my campus mailbox for an assignment that I am sure God wanted me to have.
Post 3:
Heavenly Homework Teaches That Every Person Needs Jesus
In this series and the previous one I mentioned
homework from heaven.
That sounds nice, right? Well, in the post after this I will be mentioning a certain assignment that came with "a holler from hell."
Christian Service Assignments came in varying forms. Time-wise they ranged from part of a day to a full day and also to a full weekend. An assignment might be repetitive (long term) for a semester. A student would be asked to any number of things, like pass out Gospel tracts, street witness, teach, sing, play an instrument, preach and more.
Looking back at my records, aside from the short term assignments, I had at least two if not three long term ones during my four years at Northeast Bible Institute (NBI): Hilltop Sunday School, Indian Creek Sunday School, and Allentown Junior Church.
Hilltop might have been for just a few weeks because from what I see from the old Thank You Note from the Christian Service Department of NBI I ended the spring semester of 1971 while serving at Indian Creek.
But I think it was Hilltop that I remember the best. Regardless, it was actually a special education situation and one that was operated by Mennonites. I, and I imagine others, were assigned to work with what most people would say today would be the mentally challenged. Back then I would say – and without being degrading or disrespectful – some of the youth were mentally retarded, which was a bona fide medical term back then. Nonetheless, aside from avoiding stigma, mentally challenged in some respects might be a better term since it would cover other afflictions that would not be mental retardation.
I sure do not remember doing any teaching on that assignment. I do remember being asked to play a game of checkers with one young man whom I will call Eddy. Perhaps some others were like me in sensing a touch of innocence when work with people like that, but in playing checkers with Eddy the Lord would reinforce a Holy Bible truth in my mind: each one of us is born with a sinful nature. Eddy made a move not allowed in checkers, perhaps thinking I would overlook it since he a mental issue. Instead, I told him he actually knew better and he should play the game the right way, which he then did.
I think it was the following Sunday that we were there when apparently he did something he should not have done and some of the regulars had to control him. I can still hear him say Eddy [will] be good! Eddy [will] be good!
But the Biblical fact is that even if we have all our mental capabilities functioning, even if we have the highest IQ, outside of Christ we are NOT good and cannot be good the way God wants us to be. We need the salvation of God which can only come by Christ Jesus.
Sure, these were nice assignments. But some students also got assignments that were not so nice, possibly dangerous. God willing that will be in the next post.
Post 4:
The Holler From Hell
The
Northeast
in Northeast Bible Institute (NBI) meant precisely that. The Assembly of God (AOG) school located in Green Lane PA served what the AOG USA designated as their northeast region at that time ranging from parts of Virginia and West Virginia to, and including, the state of Maine. Any Christian Service Assignment would mean traveling to anywhere in the region.
Aside from the long term assignments previously mentioned, at the moment I can recall only four other locations, viz., Chalfont, Reading, and Quakertown PA, and the Jewish missions in Brooklyn NY. I mentioned Quakertown in the previous series. My memory of Chalfont is vague except that I think it seemed to have a number of people there with Eastern Europe ancestry. Reading was a home missions outreach and the pastor held services in what I recall as a small courtroom.
The Jewish mission was a home in Brooklyn New York. I was usually a weekend assignment and I, with others, was sent there more than once. On a Saturday we might do some street evangelism or invite people out to the services (Saturday nights and Sunday mornings).
There was bit more resistance from the unsaved in this ministry. I had heard that part of an NBI team that went over to the Flatbush area were spat upon by some Orthodox Jews. And then there was that Sunday morning that after we awakened we were told by our host that the Jewish Defense League had called and said they would bomb the house that day.
Regardless, our team ministered that morning. I wondered how they would bomb the place, if they actually were going to do it. Looking at a window on the other side of the living room I had to wonder if that would be the window. What ought I to do if I heard a window break? However, nothing happened, but as I was still a relatively new convert some of the numerous Holy Scriptures about persecution became even more real in my mind. If God permitted me to live some decades what might I come across? Where will He send me? How will I behave under persecution?
After that assignment we returned to NBI and back to our studies. However, there would be a few more visits there, and at least two special spiritual lessons, one of which would not hit home until we pastored our second church.
Post 5:
Holy Spirit Lessons At Jewish Missions, Brooklyn
In the previous post I mentioned about a bomb threat at the Jewish Missions in Brooklyn. After some time I was assigned a few more times to be part of a Christian Service Team from Northeast Bible Institute (NBI) to return there.
I recall going on visitation one time to an apartment and it was the first time I saw a mezuzah attached to a door post (see Deuteronomy 6:9). I probably gave my salvation testimony in one of the services held in mission's living room and I think I was actually allowed (heh, heh) to preach one time.
That was all well and good. However, at least two incidents occurred that made a mark in my mind. The first occurred when we were having dinner with the host family. Before I came to Christ there was a part of me that was Pete the introvert. After coming to Christ God was faithful to start changing that.
I knew that was something I had to work on by the grace of God. So, while enjoying a meal with the host family I noticed a model boat sitting on top of a shelf or piece of furniture. I liked the ocean and was interested in boating. I decided to ask about the boat.
The brother leader of the mission began to tell some story about it and the person that built it. He concluded the story by saying that the person who built the model and donated it to the mission asked that prayer would be made for him anytime when someone asked about the boat. So, we stop and prayed for that person. And I thought, Wow! I was used by God! And, do not get the idea that was typed with pride. Every Christian ought to yearn to be used by God in service for Him.
Well, that was a nice lesson. But then there was one night during an evening service thoughts ran through my mind that should not have ran through my mind. The mission was showing a film in the basement of the house. I mean a film – the type you needed a film projector for. Something happened and the projector would not work. Some of the mission workers laid hands on the machine and prayed that it would work.
At that time I was still too scientific minded. What went through my mind was Oh, just get a screwdriver.
God knows our thoughts and manner of thinking. And, in about ten years, something would happened that would bring me into the realm of spiritual warfare. That story will probably be in my final TBT series (have to stop sometime).
Yes, God was (and still is) working on me. I was heading toward the Gospel ministry. I had to start shaping up. And in the next post I want to share something that happened in NBI chapel.
Post 6: A Sudden Move Of The Holy Spirit In Chapel
It is good to worship and praise God (Psalm 147:1). He, indeed, is worthy of all the worship and praise we can give Him (Revelation 5:13-14), and infinitely more! But each born again Christian goes through a learning process. I am not sure of when the following incident occurred but most likely it was in the first two years of my attendance at Northeast Bible Institute (NBI).
Chapel was held most times from Monday through Friday starting at 8:30 AM. I think we were allowed to miss ten services per semester but if your soul was doing well with God you did not want to miss! Then, there were times, at least for me, that one would go but you might somewhat not be in good spiritual shape.
During one chapel service we were being encouraged to worship and praise God. Based upon Holy Scripture that be done in many ways and in a combination of ways. Well a number of people spontaneously respond, but it seemed to be just about half of us. And I, for one, was not doing much.
I cannot remember if I was even saying "praise God" or "hallelujah" or the like, but it seemed like I was being nudged by God to raise my had in worship For some reason I did not want to. The best that I can recall is that I was self-conscious and not God-focused.
The nudge was there but I fought it. But then I thought something like "God is worthy anyhow," so up went my hand. At that moment there was greater move of the Holy Spirit throughout the congregation with a lot more worship and praise.
What I think happened was that there were other students having a similar struggle. God was working on them too. They also responded in the way God wanted them to respond and, as result, the Holy Spirit moved in a refreshing and mighty way in that chapel service.
Here is a picture of a chapel service, but it is not a picture of the service I have just mentioned.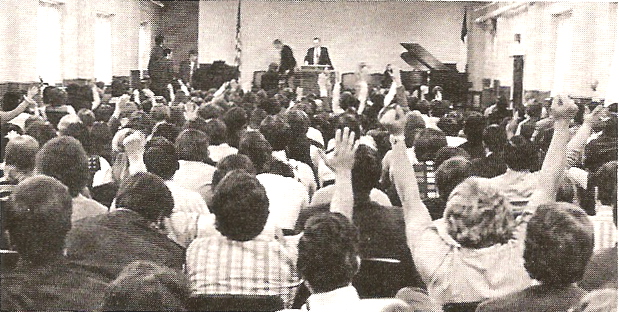 We are spiritual creatures and the One True God desires to work in you and I in a spiritual way. If you are not born again in Christ, having Christ as King of your life, I encourage you to surrender to God through Christ. If you are a true Christian, remember that Jesus said (John 4:24), "God is spirit, and those who worship Him must worship in spirit and truth." Hopefully you personally know the wonderful blessing of the Holy Spirit in your life. If not, endeavor to walk more closely with God and worship and praise Him everyday.
Well, I have mentioned some serious things (but they were also joyous) in the past few posts. God willing, I think I will post "a hoot" next time. God bless!
©2021 Peter Macinta, you may copy, store, redistribute, UNCHANGED in content and not for sale.