Throwback Thursday
Bumps, Blessings, Surprises And More
In The Boot Camp Of King Jesus
Click right here to go to the newest post. To be updated on or just after June 24, 2021.

The base for the map and the picture on the left in the above composite image courtesy of Google.
In this series read about . . .
… what happened during my first public sermon. It was a hoot! … what I saw in my parents' bedroom. … about a surprise from God in hermeneutics class: another reversal from life without Christ. … a death threat while on assignment. … how my wife-to-be miraculously made it to Bible Institute. … and a lot more in The Boot Camp Of King Jesus!
Post 1:
A Very Good Month!
If you have not done so, please the two previous series, viz.,
Countdown To The Week When Christ Saved Me,
and
What A First Year In Christ!
After I surrendered my life to Christ He changed me, and the path I was on. Before I came to Christ I was moved by evil. I was a failure and suicidal. After I came to Christ He called me to the Gospel ministry and saw to it I went to Northeast Bible Institute (NBI) in Green Lane, Pennsylvania. A lot of amazing things happened to me in my first year as a true Christian. Just over eleven months later my parents came to know God through Christ!
So in January 1971 I was in my second semester at NBI and, like the rest of the students, had only class since the school was on a 4-1-4 system. And, because it was a class on the Holy Bible itself, particularly an introduction to the Old Testament, I really enjoyed it. If you read the next to the last post in the previous series you would see that I saw what Abraham had basically seen regarding the Milky Way.
When my first birthday in Christ came, I looked back at all the blessings I had been through to that point, the foundational one being that He, in His mercy, permitted me to know Him, really know Him through Jesus Christ. Though I had been rejected by three colleges, I was now in Holy Bible institute receiving teaching in God's Word as well as ministry. I had a completely new life in Him. The realization of His presence and blessing later caused me to write in a King James Bible that I have that it was a "very good month."
As that semester ended and time rolled in to February, NBI students would expect a bill in their campus mailboxes. If you read back to the other series you will see I had saved enough money for the first two semesters. I had also acquired an on-campus job cleaning the school's kitchen. However, that would not give me enough to pay for the next semester. I had heard that in previous years some students had to leave because of finances.
The day came I received my bill. When I opened it, I saw that … the next semester had been paid in full by my parents! I am sure I greatly rejoiced over that! Now the money I was earning could be used to purchase things at the campus bookstore, particularly what was called Beuttler Notes on various topics and books of the Holy Bible. God willing you will hear more about brothe Beuttler later in this series.
Yes indeed, January 1971 was a very good month! However, I was about to encounter a little bump just as the third semester started.
Post 2:
Not THAT Subject Again!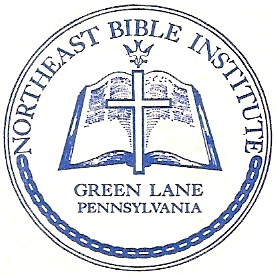 At the start of my third semester in my first year at Northeast Bible Institute (NBI) I received my list of classes and the master schedule for all classes. For that semester I would be taking Early Hebrew History (the historical books of the Old Testament) for 3 credits, Early Christian History (The Acts Of The Apostles and later Church history) for 2 credits, Theology I for two credits, Freshman English II for 3 credits, Fundamentals Of Public Speaking for 3 credits, Introduction To Music for 2 credits, and, of course, Physical Education which blessed us with half of a credit.
Everything looked appealing except for one class: Freshman English II. If you have read the last series you might recall that I had English, Grammar, or whatever you want to call it ever since first grade and was sick of it by now. I had to take in my first semester at NBI and now I had to take it again! Sadly, I was quite angry over this.
However, I consoled myself over the fact I had two Holy Bible courses and one theology course. Naturally I figured the public speaking class was needful as was Introduction To Music. Looking back, I have a suspicion that the Introduction To Music class was also used for evaluation for a certain school purpose. God willing I will share that in a future post, as well as a "hoot" in regard to another public speaking class I would take in my second year.
Books and classes were just part of the training. There was also "in the field training" otherwise known as Christian Service Assignments. Just after the third semester started I would soon receive a notice in my campus mailbox for an assignment that I am sure God wanted me to have.
Post 3:
Heavenly Homework Teaches That Every Person Needs Jesus
In this series and the previous one I mentioned
homework from heaven.
That sounds nice, right? Well, in the post after this I will be mentioning a certain assignment that came with "a holler from hell."
Christian Service Assignments came in varying forms. Time-wise they ranged from part of a day to a full day and also to a full weekend. An assignment might be repetitive (long term) for a semester. A student would be asked to any number of things, like pass out Gospel tracts, street witness, teach, sing, play an instrument, preach and more.
Looking back at my records, aside from the short term assignments, I had at least two if not three long term ones during my four years at Northeast Bible Institute (NBI): Hilltop Sunday School, Indian Creek Sunday School, and Allentown Junior Church.
Hilltop might have been for just a few weeks because from what I see from the old Thank You Note from the Christian Service Department of NBI I ended the spring semester of 1971 while serving at Indian Creek.
But I think it was Hilltop that I remember the best. Regardless, it was actually a special education situation and one that was operated by Mennonites. I, and I imagine others, were assigned to work with what most people would say today would be the mentally challenged. Back then I would say – and without being degrading or disrespectful – some of the youth were mentally retarded, which was a bona fide medical term back then. Nonetheless, aside from avoiding stigma, mentally challenged in some respects might be a better term since it would cover other afflictions that would not be mental retardation.
I sure do not remember doing any teaching on that assignment. I do remember being asked to play a game of checkers with one young man whom I will call Eddy. Perhaps some others were like me in sensing a touch of innocence when work with people like that, but in playing checkers with Eddy the Lord would reinforce a Holy Bible truth in my mind: each one of us is born with a sinful nature. Eddy made a move not allowed in checkers, perhaps thinking I would overlook it since he a mental issue. Instead, I told him he actually knew better and he should play the game the right way, which he then did.
I think it was the following Sunday that we were there when apparently he did something he should not have done and some of the regulars had to control him. I can still hear him say Eddy [will] be good! Eddy [will] be good!
But the Biblical fact is that even if we have all our mental capabilities functioning, even if we have the highest IQ, outside of Christ we are NOT good and cannot be good the way God wants us to be. We need the salvation of God which can only come by Christ Jesus.
Sure, these were nice assignments. But some students also got assignments that were not so nice, possibly dangerous. God willing that will be in the next post.
Post 4:
The Holler From Hell
The
Northeast
in Northeast Bible Institute (NBI) meant precisely that. The Assembly of God (AOG) school located in Green Lane PA served what the AOG USA designated as their northeast region at that time ranging from parts of Virginia and West Virginia to, and including, the state of Maine. Any Christian Service Assignment would mean traveling to anywhere in the region.
Aside from the long term assignments previously mentioned, at the moment I can recall only four other locations, viz., Chalfont, Reading, and Quakertown PA, and the Jewish missions in Brooklyn NY. I mentioned Quakertown in the previous series. My memory of Chalfont is vague except that I think it seemed to have a number of people there with Eastern Europe ancestry. Reading was a home missions outreach and the pastor held services in what I recall as a small courtroom.
The Jewish mission was a home in Brooklyn New York. I was usually a weekend assignment and I, with others, was sent there more than once. On a Saturday we might do some street evangelism or invite people out to the services (Saturday nights and Sunday mornings).
There was bit more resistance from the unsaved in this ministry. I had heard that part of an NBI team that went over to the Flatbush area were spat upon by some Orthodox Jews. And then there was that Sunday morning that after we awakened we were told by our host that the Jewish Defense League had called and said they would bomb the house that day.
Regardless, our team ministered that morning. I wondered how they would bomb the place, if they actually were going to do it. Looking at a window on the other side of the living room I had to wonder if that would be the window. What ought I to do if I heard a window break? However, nothing happened, but as I was still a relatively new convert some of the numerous Holy Scriptures about persecution became even more real in my mind. If God permitted me to live some decades what might I come across? Where will He send me? How will I behave under persecution?
After that assignment we returned to NBI and back to our studies. However, there would be a few more visits there, and at least two special spiritual lessons, one of which would not hit home until we pastored our second church.
Post 5:
Holy Spirit Lessons At Jewish Missions, Brooklyn
In the previous post I mentioned about a bomb threat at the Jewish Missions in Brooklyn. After some time I was assigned a few more times to be part of a Christian Service Team from Northeast Bible Institute (NBI) to return there.
I recall going on visitation one time to an apartment and it was the first time I saw a mezuzah attached to a door post (see Deuteronomy 6:9). I probably gave my salvation testimony in one of the services held in mission's living room and I think I was actually allowed (heh, heh) to preach one time.
That was all well and good. However, at least two incidents occurred that made a mark in my mind. The first occurred when we were having dinner with the host family. Before I came to Christ there was a part of me that was Pete the introvert. After coming to Christ God was faithful to start changing that.
I knew that was something I had to work on by the grace of God. So, while enjoying a meal with the host family I noticed a model boat sitting on top of a shelf or piece of furniture. I liked the ocean and was interested in boating. I decided to ask about the boat.
The brother leader of the mission began to tell some story about it and the person that built it. He concluded the story by saying that the person who built the model and donated it to the mission asked that prayer would be made for him anytime when someone asked about the boat. So, we stop and prayed for that person. And I thought, Wow! I was used by God! And, do not get the idea that was typed with pride. Every Christian ought to yearn to be used by God in service for Him.
Well, that was a nice lesson. But then there was one night during an evening service thoughts ran through my mind that should not have ran through my mind. The mission was showing a film in the basement of the house. I mean a film – the type you needed a film projector for. Something happened and the projector would not work. Some of the mission workers laid hands on the machine and prayed that it would work.
At that time I was still too scientific minded. What went through my mind was Oh, just get a screwdriver.
God knows our thoughts and manner of thinking. And, in about ten years, something would happened that would bring me into the realm of spiritual warfare. That story will probably be in my final TBT series (have to stop sometime).
Yes, God was (and still is) working on me. I was heading toward the Gospel ministry. I had to start shaping up. And in the next post I want to share something that happened in NBI chapel.
Post 6: A Sudden Move Of The Holy Spirit In Chapel
It is good to worship and praise God (Psalm 147:1). He, indeed, is worthy of all the worship and praise we can give Him (Revelation 5:13-14), and infinitely more! But each born again Christian goes through a learning process. I am not sure of when the following incident occurred but most likely it was in the first two years of my attendance at Northeast Bible Institute (NBI).
Chapel was held most times from Monday through Friday starting at 8:30 AM. I think we were allowed to miss ten services per semester but if your soul was doing well with God you did not want to miss! Then, there were times, at least for me, that one would go but you might somewhat not be in good spiritual shape.
During one chapel service we were being encouraged to worship and praise God. Based upon Holy Scripture that be done in many ways and in a combination of ways. Well a number of people spontaneously respond, but it seemed to be just about half of us. And I, for one, was not doing much.
I cannot remember if I was even saying "praise God" or "hallelujah" or the like, but it seemed like I was being nudged by God to raise my had in worship For some reason I did not want to. The best that I can recall is that I was self-conscious and not God-focused.
The nudge was there but I fought it. But then I thought something like "God is worthy anyhow," so up went my hand. At that moment there was greater move of the Holy Spirit throughout the congregation with a lot more worship and praise.
What I think happened was that there were other students having a similar struggle. God was working on them too. They also responded in the way God wanted them to respond and, as result, the Holy Spirit moved in a refreshing and mighty way in that chapel service.
Here is a picture of a chapel service, but it is not a picture of the service I have just mentioned.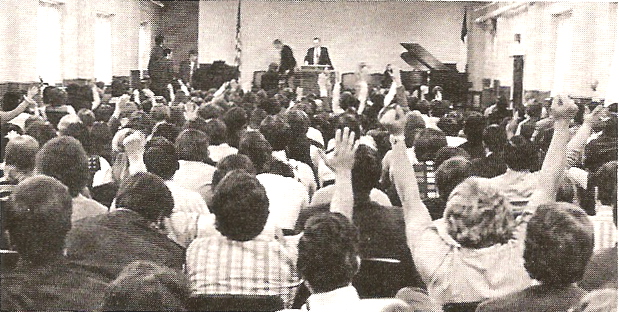 We are spiritual creatures and the One True God desires to work in you and I in a spiritual way. If you are not born again in Christ, having Christ as King of your life, I encourage you to surrender to God through Christ. If you are a true Christian, remember that Jesus said (John 4:24), "God is spirit, and those who worship Him must worship in spirit and truth." Hopefully you personally know the wonderful blessing of the Holy Spirit in your life. If not, endeavor to walk more closely with God and worship and praise Him everyday.
Well, I have mentioned some serious things (but they were also joyous) in the past few posts. God willing, I think I will post "a hoot" next time. God bless!
Post 7: Stuck On A Roof With Only My Bathrobe On And . . .
Holy Bible institute – surely a place of saintly students, right? Well, let us look at it this way: every convert has to grow in Christ and some of us, especially young adult males, had a measure of mischief at times. Also, and I think I said this in a previous series, some people were not really saved and lied on their applications that they were in order to gain admission. Also, in true Christianity there is a level of godly humor, but what I am about to convey, well, uh, I do not think Jesus would do this to someone.
There were no main classes on Saturdays at Northeast Bible Institute (NBI) and every now and then NBI had Open House Day where prospective students and their families would visit the campus.
I resided at the lower dormitory. It was a Saturday forenoon or just after noon when I decided to take a shower. Armed with a towel and wash cloth, and clad only in a bathrobe I went to the dormitory bathroom to use the shower there. It was also an Open House Day (however, no one would come into any dormitory without first announcing themselves).
After drying off and donning my bathrobe I opened the bathroom door and headed to my room – only to be accosted by two or three horse-playing guys that pushed me backwards. I tried to move ahead but these chaps were too much for me.
They kept pushing and pushing until they shoved me into a vacant room. If I recall, the window was already open. They started pushing me toward the window! This men's dormitory was on the second floor of a square building. The cafeteria and kitchen were on the first floor.
I did my best to have them stop pushing, but they prevailed until they pushed me out the window onto a small roof that was over a small back extension of the kitchen.
They locked the window and left! I knocked on the window and yelled,

"Let me in!"
Just a moment later I glanced to my right and spied . . .
brother Paul Emery, the president of NBI!
At that time he was a few hundred feet (around 92 meters) away coming down the hill with some people for Open House Day – and they were heading in my direction!
And brother Emery had looked in my direction just after I yelled!
Immediately I laid flat facedown on the roof, hoping and praying that I would be seen no more by brother Emery and his tour group. I made sure that my back end was well covered by my robe, and I surely prayed, lol! What would I say to brother Emery if he found me out? What an embarrassment it would be! I was surely praying they would not see me, because the road coming by the building came close enough to the building that it would be hard to spot me. I was also hoping and praying that if they did spot me that all they would see would be something like a bunch of cloth someone might have laid on the roof to dry or air out.
I waited a few moments. I heard them pass by and go around the corner. I waited a few more moments. When I thought it was safe I got up.
Now, how am I going to get down? Also, all I had on was a bathrobe, so if I found some way to climb down I would have to do it quickly before someone would come by on foot or in a car. What could I do?
I tried the window again. Now it was unlocked. I went back in, closed the window, retrieved my towel, washcloth, and soap, and went straight to the safety of my room.
I forget for sure which room I had at the time though, whether it was the first room I had (which I shared with another student) or a corner room that I longed for, but when I got it it also came with a surprise after a time. God willing I will tell you about that next time. In fact, I will try to post a picture of the general area of my room because the picture will include the small roof I just mentioned in this post.
Also coming later in this series: proof that my parents made a true commitment to Christ; saved from danger at King of Prussia; God does a complete reversal of a dismal part of my life before I came to Him; and more!
Post 8: I Got My Dream Room (With A Small Nightmare)
During the summer of my first and second year at Northeast Bible Institute (NBI) I received some pretty good news from the school: I was able to get a private corner room at the lower dormitory. If you read back in the previous series the room I had in my first year was one of the side rooms. Somehow these were less quiet than the corner rooms. I tended to have a more difficult time to fall asleep than most people and when others told me that the corner rooms were pretty quiet I wanted to get one.
Also, I had a roommate the first year. He was from New Hampshire. I was from New Jersey, and my parents always kept our home pretty warm during winter. My roommate seemed to enjoy the cold so every now and then he had the window open. That is not for me, and made the idea of a private corner room even more appealing to me.
When I told my parents I had secured my own private room Dad somehow got a hold of some multicolored carpet squares and we affixed them to the floor of the room when he brought me back to NBI. I now had my NBI dream room!
A real great thing about this particular room was that it was near one of the three stairways of the lower dorm. This stairway was on the outside of the building and its ground end was near a back door of the kitchen. To help earn my keep I cleaned the kitchen after hours so all I had to do was head down the stairs sometime after 7:30 PM to go to work.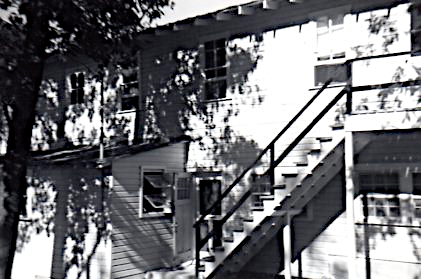 By the way, in reference to the previous post, in the picture is shown the roof I got trapped on – with only my bathrobe on. That stairway was an added bonus that came with my corner room (the window, for which, is not included in the photograph). However, something else was added later on: hornets!
Yep. One day when I went out the exit to head down the steps I discovered a hornet's nest along that path. I retreated and went another way, but I did inform the maintenance department. The nest was gone in few days.
Nevertheless, that room was a pretty good room which I was able to keep for my remainder of education and training at NBI. A wonderful blessing it was.
However, before I ever got that room, as time went on at NBI I was wondering about my parents. They had made a commitment to Christ at the end of 1970. Were they still committed to Him? Were they letting Christ change them? God willing, I will tell you something about that in my next post.
Post 9: A Small Sign Of Salvation At Home From Home
I am sure there were numerous times I thanked God not only for my salvation, but that I was able to go to a Holy Bible institute to study and though I had ran out of money to continue my education my parents picked up the bill. More important than that, my parents dedicated their lives to Christ around eleven months after I did. However, during the earlier time of my stay at Northeast Bible Institute (NBI) I wondered if they did get saved.
Naturally, in my first year at NBI I would not be at home until summer. If I were home I would be able to observe any fruit of salvation in their lives. For example, the cursing and yelling would stop or, in the least, subside. My parents would be more loving toward each other. The drinking would stop or subside. Were they attending a Holy Bible believing church? For weeks I had no clue until I noticed something in the mail one day.
Like most other parents would do for their children, I would receive letters and packages from home. One of my favorite packages was the time they sent some pepperoni. No, that is not a sign of salvation, but it was pretty good. I think I shared some with a brother or two at NBI. The clue came in a letter, even before I opened it.
Before they came to Christ Mom and Dad smoked. Dad smoked pipes and cigars, and Mom was hooked on cigarettes. Many people that smoke do not realize that most times not only does their breath and body reek with smoke, but just about everything they own has a smoke stench. Even if they come into your home or office but do not smoke there, sadly, there is a lingering stench that might take hours or even a day or so to vanish.
For a time, everything from home had the stench of smoke on it. Letters from home were always written by Mom. By the way, she had perfect handwriting. One day when I checked my mail there was a letter from home, and this one was different. It did not have a stench to it! I think after opening it, instead of immediately reading it I sniffed it. I could not detect any smoke! I considered that a sign that she was permitting God to work in her life through Christ.
Dad was a bit more difficult to figure out while I was at NBI. After all, he did not write the letters and pack the packages, and my last direct observation of him was when he brought me back to NBI for my second semester in my first year.
But, coming probably at the end of May or beginning of June 2021, God willing, I want to post the proof-positive that they both really had made Jesus king in their lives! While this current series is not based upon the sub-theme of "fifty years ago," I do want to note that wonderful proof around its fiftieth anniversary (I am getting tears about that now).
In the next few posts I want to get rid of some negative accounts about myself so I can keep an "upbeat" tone for a time. I want to post those to remind others that until a true Christian dies (or is raptured) they are growing in the Lord. Also, hopefully it will be an encouragement to some who struggle with a few things. Yet, I caution those who would say, "yes, we are only human." God became human (according to our concept of time) so that we might take on His moral qualities. We have no excuse, but if we are truly saved we have enablement from Christ by the power and direction of His Holy Spirit.
Post 10: The List
Permit me, now, to get some negative things out of the way in this post and the next, but I think you will be able to get a chuckle or two out of the post that follows this one. I am doing this to remind others that until a true Christian dies (or is raptured) that disciple is growing in the Lord. Also, I hope it will be an encouragement to some who struggle with a few things.
I think the first one I want to report occurred during the first year-and-a-half at Northeast Bible Institute (NBI). I do not recall how I was acting but I am sure I could have been behaving better. I think I permitted myself to be influenced by some who also should have been behaving better. Indeed, there were some students there that I considered to be super-Christians, but I was not too sure how they became that way and what would I have to go through to be that way. So, being immature, I would tap into the "fun" way every now and then.
Over the course of a time, and in separate incidents, I was rebuked by various students. Some improperly did it, and I am sure there were some that were led by God both in word and manner. However, I did not respond well to any of it – especially to the ones that questioned my salvation. I do not remember if I said this to myself or to a friend who I let join me in the cafeteria after I got my work done, but I sat on a counter (something we should not do) and said, "What the h___ (or maybe heck) do they want from me?"
Yes, talking that way was wrong too. In the previous series, "What A First Year In Christ!" (seek week 8), I wrote about how my good friend Bob Wittik admonished me about my language one day when walking home from high school. Because I thought it was "normal" to curse I continued to do so, but after Bob admonished me I started to work on that flaw and, as you can see, I needed to make more headway.
I think it was soon after that point of despair that I started questioning my salvation, and I am sure the questioning was inspired by satan. Anyhow, I got a sheet of paper and began to write down areas I had improved in since the night I surrendered to Christ. If I recall correctly it was more than a half dozen if not dozen and a bit more. One was the fact that I still had a level of peace that I did not have before I came to Christ, including the elimination of being overly fearful of death. Another was that I had a tremendous love for the Word of God that I never had before.
If we are born again it is important we address any flaws in our lives, seek the forgiveness of God, and ask Him to help us to apply the grace of Christ in lives much better than what we had been doing. It is also good for us to note the ways we have grown in Him.
Sometimes it takes more than our peers to admonish us, like the time I was summoned to the office of the dean of students! God willing I will post that next week.
Post 11: Was Shanks Mare A Student?
As I mentioned last time, I wanted to get some negative stuff out of the way. It has to be said for various reasons, one of which is to let those who find themselves in a similar condition know they are not alone and that God will help any disciple over the course of time as they permit Him.
If you read back on the previous TBT series, "What A First Year In Christ!", you will see that Kearny Assembly of God (AOG) would have numerous evangelistic outreaches. In this series you see more were naturally added while attending at Northeast Bible Institute (NBI). For the first year or so I usually participated with anticipation in such activities but after a time the anticipation turned to a level of reservation. So there was one summer when I yielded to my introversive tendencies. However, no one hounded me to do more.
It also happened at NBI in regard to attending Sunday church services. Unless we were on a Christian Service Assignment we had to attend church on Sunday. I had been doing that, but what I think happened was that pastor habitually preached on, or at least heavily referenced, the future second coming of Christ. Some students got tired of that and started to attend Green Lane AOG, but I decided to just stay on campus.
However, NBI kept an eye on our behavior, and every now and then a student would find a questionnaire in their mailbox about church attendance. Sure enough, I got one after a few stays on campus, and I knew that Christians were not to lie one to another. And, when you think about it, that would be worse because if you lie about your church attendance then you have violated not one, but two commands in the Word of God. Naturally, I indicated I had been skipping church.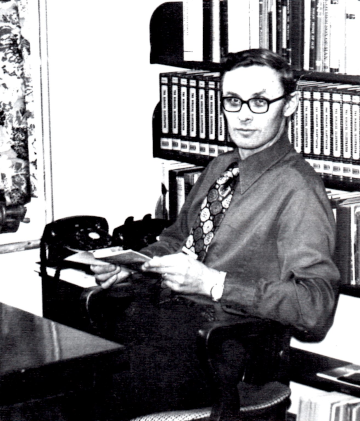 Naturally, I was summoned to the office of Rev. Reuben Hartwick, NBI Dean of Students. Attached to this post is a picture of him.
"Why aren't you attending church brother Macinta?" brother Hartwick asked.
I told him about the situation at the church I had been attending. I forget if he said anything about that, but he then suggested I start attending Green Lane AOG. I replied I had no ride and I really was too embarrassed to ask anyone.
Bro. Hartwick: "What about shanks' mare?"
Me: "Is he a student here?"
I was not acting dumb. I WAS a bit dumb.
"I mean, you could walk to church," he said.
Well, that was the final word, but I sort of dreaded walking because Route 29 did not have much room for safe walking as it went down the hill into Green Lane. The bit of "daredevil" I had when I was younger was no longer there.
So, I walked. And I believe that it was after only one or two times that other students noticed and I was offered a ride each Sunday to attend. Looking back I could see God had used that situation so I would be less self-centered. And there was more to come.
I forget which students gave me rides to church for the remainder of my stay at NBI, but I am very grateful for their ministry which spared me from possible danger along Route 29. However, there was an incident at another location that – for sure – I was spared from danger. God willing I will post that next time.
Post 12: Dan Savilla To The Rescue
Northeast Bible Institute (NBI) being located between two small Pennsylvanian towns and not in the midst of a big city (or even a small one) was an added treat for me. Having been born and raised in bustling northeast New Jersey, attending a school in a rural area was a delight. It was good to see charming "little" places from time to time like Chalfont, Doylestown, and Boyertown.
However, King Of Prussia was only about 20 miles (32 km) from campus and the King of Prussia Shopping turned out to be a nifty place to visit. So, one day a group of guys wanted to visit the mall and asked if I wanted to go along. I sure did! Shopping malls were still kind of a "new thing" back in the early 1970s.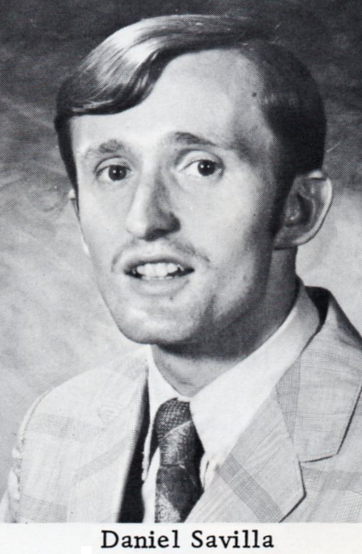 To this day I forget who invited me and who drove us there, but one of the guys in the group was Daniel Savilla, a fellow sophomore. Dan was something like 6ft. 4in. (almost 1.9 meters) tall.
The King Of Prussia Shopping Mall was immense! To me it was like a commercial block of New York City enclosed in walls. There was a lot to see and all of us wanted to see as much as we could see before we had to head back to the school.
While rambling through the mall with guys I developed a problem. I needed a restroom, and, pretty bad. I saw no signs indicating a men's room anywhere and I started to wander from the group in search of one.
Soon, a young man with a tie and casual jacket was heading my way. I thought he might have been employed at the mall so I asked him. He told me to follow him and I did as the group I was with continued on. That was a bad move on my part.
This guy led me on a little lengthy walk to the back part of the mall! But I needed a restroom. Maybe he will point out the location then walk away. We went around a corner and it looked like a restroom area. But this guy did not say much and he kept walking with me. What am I going to do? I needed a restroom, but this area was pretty remote. If I get in there, and this guy does something to me, if I scream will anyone hear me? Then, all of a sudden I hear . . .
"Pete! Are you okay?"
It was Dan! He had followed us around the corner! And the guy in the casual jacket and tie took one look at towering Dan and took off in another direction!
Smiling, I replied,

"I am now, Dan."
What might have happened if Dan did not show up? Would I be robbed, sexually assaulted, become a victim of human trafficking, or all three? Was the guy in the casual jacket and tie a killer?
I thanked Dan for showing up, and I most certainly thanked God. Recently I was trying to see on the Internet if Dan was still around so I could thank him again. I have not located him yet.
Thank God I avoided that trap! However, aside from what I mentioned earlier about being trapped on roof, I would be trapped again! God willing I will post that next time.
Post 13: Trapped – For Praying!
Jesus is recorded saying in Matthew 6:6, "But you, when you pray, enter into your closet, and when you have shut your door, pray to your Father which is in secret; and your Father which sees in secret shall reward you openly." Of course, when we read other things He said and did, as well as accounts of others throughout the Holy Bible we know that "going into a closet" is not the only God-approved way to pray and, provided our motives are God-honoring, public prayer is certainly acceptable. Also, as we read the context of Matthew 6:6 we see a theme of this teaching was being rewarded for praying in certain cases.
Nonetheless, I have always found it is good at times just to be in a secluded area and sometimes in the dark. Being disconnected from disruptions is good, and being disconnected from any sense of time is like having a tiny taste of eternity – at least for me. Also, there is that added benefit of privacy where you can cry (God willing you will read about something in a future post), shout, and so on. We Pentecostals at times find it as opportunity to yield to God and pray in tongues (as we read the Holy Bible we find that speaking in tongues as the Holy Spirit gives utterance may be done in private or publicly).
So I, and others too, would seek out spots on the campus of Northeast Bible Institute (NBI) just like that. One brother in Christ, Stephen Roser, went out in the dark one night with a flashlight and a towel to kneel on. When he came back an hour or two later he said that he started to praise and thank God for everything he could think of, even the towel he had been kneeling on. Cool!
There was one evening I felt the hankering to find a "closet." And that is precisely what I found in one of the classrooms in the main two-level complex (which housed the campus mailboxes) that ran along the county reservoir. The reservoir was fenced off, of course, but I liked the idea of water being nearby. I selected one of the classrooms there on the lower level of the classroom complex that I knew had a storage closet. I went into the closet, turned on the light, shut the door, and turned off the light.
I started worshiping God and communing with Him, all alone – but not for long! About fifteen or twenty minutes into my time of prayer I heard students come into the classroom! A few moments later I heard the voice of brother Hobart Grazier, our Koine Greek instructor! What!? I did not know there were any evening sessions going on!
How long were they going to be in there, an hour? I did not think I could wait an hour and, if I could not, what should I do? I would be completely embarrassed to open the closet door while class was in session. I am sure I would be asked some questions but, then again, if it is a Holy Bible school you would hope that some would figure I was praying in there.
However, just as suddenly they came in they left after about a half hour. I waited to hear if they were coming back. After a few moments I eased the door open, saw no one was around, and headed back to my room.
Want to pray in a closet? Choose one very carefully!
I hope you found that to be somewhat of a "hoot." For next time I feel led to tell you of a major flip God had done in my life and, when I heard was said by one professor, as the saying goes, "I just about fell out of my chair" in class, floored by the awesomeness of God in the ways He can take a messed up life and do a complete reversal!
Post 14: Professor Roberson Says Four Words,
And Then I Knew God Did A Major Flip In My Life!
For those that have read "Throwback Thursday Countdown To The Week Christ Saved Me - And Beyond!" you will know that I when I was young child I wanted to be a scientist in the field of chemistry, and that I had the grades for it right into fifth grade. But I had done something wrong and was arrested for it. I felt I had terribly disappointed my parents. My grades plummeted.
But I held on with a little hope that I would go to college and become a chemist – until that day in my sophomore year in high school when I began taking a chemistry class. I did not understand hardly anything of what the teacher said as well as the textbook we had. Then it hit me: I was an absolute failure! I felt that I surely would not ever be a chemist, or any type of a scientist. Thoughts of suicide entered my mind.
There were a few other issues in my life that nudged me toward suicide. However, I still held on to the possibility I could go to college, until the fall of 1969 when all the colleges I applied for rejected me. That was it. I was a failure and I wanted to kill myself. If you read back you will see I tried to kill myself twice in one night. Instead, completely devastated I slowly returned home with the thought that I am a failure and will always be a failure. I would never be a chemist, or any type of scientist for that matter.
But, hallelujah, if you have read the series before this one you would know I surrendered my life to Christ near the end of January 1970, and exactly a month later I felt the call of God for me to become a fulltime minister of the Gospel of Jesus Christ. I applied to one, only one, Holy Bible school associated with the Assemblies of God, Northeast Bible Institute (NBI) of Green Lane PA. Despite my horrible high school grades the school accepted me.
As the months at NBI turned into one school year the thought of becoming a scientist was something completely out of my mind. I still liked science and was still interested in some aspects of it, but I was totally satisfied that by the grace of God I would be in the Gospel ministry.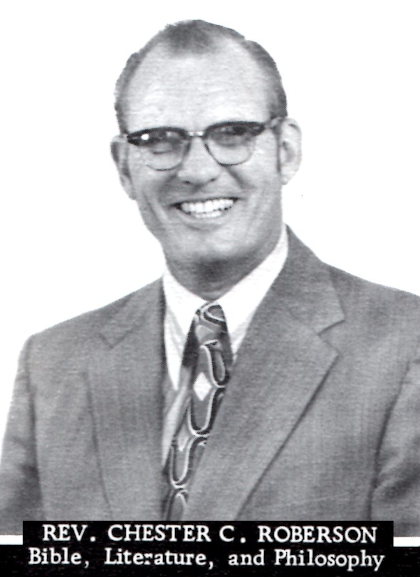 Forging into my second year at NBI, my sophomore year, I was greeted with a number of classes I looked forward to, such Major Prophets, Systematic Theology II, and Advanced Public Speaking. The delight continued into the spring semester with my favorites being Systematic Theology III (a little tough), English Literature (which was an eye-opener about the roots of our English language), I & II Corinthians (taught by brother Hobart Grazier), Minor Prophets (taught by brother Walter Beuttler), and Hermeneutics (taught by brother Roberson, aka "Brother Rob").
Another term that could be used for hermeneutics is "Holy Bible Interpretation." While hermeneutics might sound like a big humongous technical term, there is really nothing humongous or overwhelming about it. I consider it just plain godly common sense when approaching the God-breathed (2 Timothy 3:16) Holy Scriptures which are in a variety of genres (history, poetry, prophecy, letters, and more) brought together by the Holy Spirit Himself into one Work. Up front, some of the most logical steps one needs to take is to have a relationship with God through Christ, use a reliable translation, keep the immediate and general context in mind of any verse (do not let chapter and verse numbers throw you off), recognize figures of speech when they occur, and the like. A favorite of mine that I have found very helpful is "Scripture interprets Scripture" (which would spare some people from snake bites and poisoning).
But without getting too much further, one thing I encourage all Christians to do is to check what the original language says about the words. We do not have to know Hebrew, Aramaic, and Koine Greek to do this because we are blessed with some good Holy Bible study apps and web sites like blueletterbible.org where we can find out the meanings in a click!
When I came to Christ God by His grace gave me a great love for the Holy Bible, so when my spring semester started in my sophomore year I greatly looked forward to hermeneutics class.
With glee I entered the classroom for the first session, not knowing God had a surprise for me. Once the bell rung class began with prayer, brother Roberson then welcomed us and began to give us an overview of the class. Naturally I listened, but I raised my head and really perked up when he said, . . .
"Hermeneutics is a science."
What!? WHAT!? God flipped a part of my life! I was going to be a scientist after all! Oh WOW! In my sophomore year in high school I concluded that would never be a scientist, but in my sophomore year at NBI I learned that God said the opposite!
Godly Holy Bible interpretation is something every true Christian ought to do. If you would like more information on that, please start here: http://www.sapphirestreams.com/bec/bec18UHB1.html .
I feel like giving you another chuckle in the next post so, God willing, next time I will write about something in another class.
Post 15: The Day I Declared An Entirely New Species Of Deer
Along with Hermeneutics, in the last post I mentioned a few classes I took in the spring semester of my sophomore year at Northeast Bible Institute (NBI). Advanced Public Speaking was one which points to the fact there was a course on public speaking before that, and the course was Fundamentals Of Public Speaking.
I am sure you would know it included aspects like posture, hand and body motion, eye contact, choice of words, speed of speaking, diction, getting the attention of the audience and the like. And, of course, from time to time each student had to speak in front of the class. It was also good for those that might have been overly shy since they would be speaking in front of their peers.
Probably in both courses we anonymously critiqued each other, using forms presented to us by our instructor. A student would speak and later receive the forms from their peers. Before I tell you about one funny criticism I received I want to tell you about two memorable instances.
As mentioned, one of the many things to keep in mind was to get the attention of the audience. So as we were in class the time came to give our sample speeches. The instructor tells one of our brothers to get up and speak. As we were all staring at our notes and the critique forms in front of us the brother gets to the podium and says . . .
"Sex."
Boom! In an instant all of our eyes went from our desks to the brother at the podium, who then said,
"Now that I have your attention, . . ."
Well, alright – we give him high points on that aspect of public speaking. He went on to speak, but his topic had absolutely nothing to do with sex.
The other instance was not like that at all. A brother got up and delivered a small message from the epistle of Jude. It is one of a few books in the Holy Bible that is very small, so it has no chapters. Jude is a very hard-hitting book, yet it points out to every disciple we must endeavor to remain in the true Gospel of Christ.
For the short amount of time we were allotted to speak this brother did very well in bringing out some of the epistles warnings and its strong admonition for the Lord's disciples to remain in the love of God. Upon that point, the brother warned any who did not remain in Christ will face dire trouble. And, with that, he turned the text of Jude in the Holy Bible toward us so we could see it, pointed out that the next book was The Revelation Of Jesus Christ (aka, Revelation) and stated that if a Christian does not remain in Christ they will face the judgments contained in Revelation.
Bravo! I thought that was an excellent conclusion, and have used it at least once or twice in my over fifty years of ministry.
Yes, one day my turn came. I was born and raised in northeast New Jersey and had a pretty heavy New Jersey accent. You know how that is. Instead of saying "coffee" we might say "cawfee." Instead of "water" we might say "wadder."
When it came time to do a short sermon I chose Mark 7:18-30 and developed a message I called "The Three I's In The Sight Of Christ." Naturally, the title will pique the curiosity of the hearers since in most minds it would seem like I was saying "The Three Eyes In The Sight Of Christ" (from Mark 7:18-30 : I. His Intent, v.18; II. His Insight, v.27; III. His Invite v.29). The title itself would be an "attention getter." During my brief discourse I said the word "idea" at least two or three times and, of course, with my New Jersey accent.
I later got the critique papers. There were a number of positive comments and most certainly a number of negative ones. One was, "keep your glasses on your nose."
However, the most memorable one was when someone wrote, "What is an eyedeer?" Next to that comment they drew a deer that was composed mainly of an eye! I smiled and laughed, but I got the message. And thanks to that anonymous student, over the course of time I was cured of saying "idear." I have kept that critique and have remembered it down through the years. It has helped me to say other words correctly over the course of time. I was looking for that critique so I could scan it and put its image with this post but I could not find it in time.
Anyhow, while I expected to learn from my public speaking courses about standing up and speaking, I did not expect something else from another class, and was quite surprised to get an initial notice from the school staff after completing the course. God willing, I will write about that next time.
Post 16: More Encouragement!
If you have read my first Throwback Thursday (TT) series I started in 2019 you would know that near the end of 1969 I had fully concluded I was a complete failure destined for nothing until my death. To hasten that day I attempted suicide twice in one night. After aborting the attempts I was doubly sure I would be a perennial failure. If you read the next TT series you would know I surrendered my life to Christ and was called to the ministry.
For me that meant education and training, and a goodly chunk of it came from my four years at Northeast Bible Institute in Green Lane, Pennsylvania. Because worship of God through Christ is a major element in Christianity, students took courses in music. Slated for the second half of my freshman year was Introduction To Music.
I had four years of piano lessons before my life fell apart when younger, and I did not touch the piano much after that. Along with the one in chapel, there as a piano in the school cafeteria, but I never tried to to do anything with it. Nonetheless, since I did have some musical training I earned a C+ in Introduction To Music. It could have been, and should have been, higher, even an A. I do not know why I did not excel more in many of my courses. Perhaps I was too immature. It would not be until my junior year that a young lady "in the know" (she worked in one of the school offices and had access to IQ tests performed on students) told me I could do better. THAT has had me wondering on and off during the decades if I am doing my optimum.
Satan and the world wears people down, and he especially goes after Christians. But if we persevere in God through Christ we can improve. Each Christian in the Body of Christ should see it this way. We should look for hope and possibilities in our brothers and sisters in Christ.
And, evidently some on the faculty and staff saw possibilities in me. I returned at the end of summer 1971 and in just a couple of weeks I received a notice in my campus mailbox: I was selected as one of a number of students to lead the worship in the chapel services from time to time.
If I recall correctly, the procedure would be that the students involved (song leader, pianist, and organist) would leave their first class early (if they had one) to meet with the speaker and the overseer (often the president of the school) for prayer and planning.
Notices to lead worship in chapel would come quite often for me for the remainder of stay at NBI My friend, if you feel you are a failure remember there is always hope in God through Christ, especially if we commit to Him through Christ.
Do not let the forces of darkness tell you that you are good for nothing. We all have purpose, especially if we are truly in Jesus Christ. Worship, prayer, and intercessory prayer is something we all can do, no matter what shape we are in. It is great to be moved upon by the Holy Spirit. It is also great to see Him move around us. Next time, God willing, I want write about such a move on campus.
Post 17: A Solemn Move Of The Holy Spirit On Campus
Growing up in an "assigned" religion there can be a few times when one can have an eerie spiritual feeling (for some people). Silence in a nearly empty church building, stained glass windows illuminated by sunlight, and perhaps a few other things like the smell of candles tend to give some people a sense of the spiritual.
However, after I surrendered my life to Christ I, like many others, discovered that none of this was needed. After being made alive by the Holy Spirit those that endeavor to walk close to the Lord will tell us that His Spirit can move anytime according to His will. We can be doing the laundry, checking our email, and anything else and the presence of God might be felt in a stronger way, prompting us to respond as directed.
Many times the expected response would be to worship Him, intercede in prayer, just meditate upon His Word, inspect ourselves, and numerous other possibilities – and sometimes more than one type of response may be required. Also, if other Christians are around they may be prompted to respond in different ways.
It seems to me it was one spring evening in my sophomore year that while I was in my room I started to sense something. I also noticed that the campus was more quiet than usual and it was way past "quiet time" (7 to 7:30PM). I felt like I had to leave my room and seek another place to pray.
The sensation of awe was even greater when I was outside and you could sense others were set to praying too. Some were even heard, mostly crying before the Lord. As I recall, I heard a sister around the main classroom complex by the reservoir, a favorite area of mine to commune with God, but I think I went to the other end and tried not to be too loud.
What was going on? I was not sure. To this day I forgot what I prayed or how I prayed, but looking back that would be the last school year the school president, brother Paul Emory, would be there. Was all this about him and the pending transition to a new president? Perhaps it was partly so. The daily chapel services were also affected by this move of the Holy Spirit.
Once again I was reminded that when I came to Christ I was transferred from religion to a relationship with God through Christ. The moving of the Holy Spirit is to be expected anytime, not just on certain days and certain places.
And then, there are times God moves and we might misunderstand the move. He is "in the background" preparing something else. God willing I will tell you more next time. And, after that post, what I saw in my parents' room when I came home for the summer in 1971!
Post 18: Background Workings
It was in the previous series that I mentioned a very odd occurrence: unbeknown to me, my future wife, Dorcas Yoder, was baptized by immersion the very same day I was. She was over 300 miles (483 km) away at the time, in Garrett County, Maryland. She was raised Amish-Mennonite and received Christ as her Savior at a young age. Hungry for more, she received the Baptism of the Holy Spirit as a youth. She later joined an Assemblies of God church. God willing, I will tell you in part why, but I want to save that for later because something very similar happened to me regarding Mennonites!
Suffice it for now for me to say that eventually she and one of her cousins got "the hankering" for more Biblical training and eventually chose Northeast Bible Institute (NBI). It was an absolute miracle she was able to get to NBI – and I am NOT exaggerating! That account will also be saved for later. You will read about the mighty hand of God's providence. However, she would not show up at NBI until my junior year.
In the meantime, I got "the hankering" to find a girl-friend. I do not recall asking God about that "hankering" because I just assumed it would be normal for me to consider dating, eventually going steady with someone, and then get married. Later I would learn a Christian ought not to assume things.
My sights eventually focused upon a young lady from New Hampshire. Months later, when I thought I might wind up marrying her, I kind of laughed at the fact she was from New Hampshire. My roommate in my freshman year was from Keene New Hampshire and he preferred to have our room colder than I would prefer.
This young lady wore no make up. For some reason I liked that. She dressed modestly, which I considered a plus. She was of good godly character. She had perfect pitch. She was an accomplished pianist, so she was often called upon to play for chapel services. She also played for the school's Evangelaire Concert Choir, and appears on at least one album produced by the choir.
Naturally, once I started steadily dating her some of the staff and professors thought this was "a perfect match." Instead of developing any talent within, when looking for a pastor to fill their pulpit many churches checked to see if the wife of the potential pastor could play the piano or organ. That should not be.
Anyhow, despite what some staff and professors had thought, God had other plans. However, I was socially "occupied" with this young lady for over a year, and perhaps that was God's way to avoid picking a disaster.
Even if there is disaster God can intervene, if we permit Him. And I saw mighty strong evidence of that around fifty years ago on the date of the next post. While this current TBT is not based upon "fifty years ago," God willing I will post in my next post what I saw in my parents' bedroom around fifty years ago. I have waited to write about that so I could post it near its fiftieth anniversary. God did a MAJOR FLIP for my parents – a miracle greater than physical healing!
Post 19: What I Saw In My Parents' Bedroom!
Last time I wrote that fifty years ago I was socially "occupied" with young Christian lady for over a year, and perhaps that was God's way to avoid picking a disaster. If we could travel back in time to various points in the 1950s and 1960s many would say my parents were in a marital disaster, and many would also say they should have divorced instead of having me "be affected by their toxic relationship."
Please read back at the previous Throwback Thursdays. There were many vehement arguments punctuated with extreme vulgarity. A very specific time I remember was when we were returning from Jersey City going through a long underpass (a highway was over our travel lanes). I was crying and shaking in the back seat because of their arguing back and forth while Dad was driving. You would think they were ready to kill each other. I wrote "help" on steamy window near me.
There was one time Mom thought Dad WAS going to kill her, so while he was at work she took my sister and I to relatives in Jersey City. I do not know where my sister went, but I stayed at my aunt Anna's and uncle Mickey's apartment across from the Margaret Hague hospital – and that is where my mom went to be treated for a nervous breakdown. She was there for about two weeks. Somehow I got my school work from my school. As a side note, it was during my stay at aunt Anna's that one of my cousins got irritated with me and twisted my head to the right, which is why my head leans to the right to this day.
They had separate beds in their bedroom well enough apart from each other. Until a certain age, my bed was in their bedroom. I remember the time that both my dad and I were in bed. I was in bed because I was still quite young, but Dad was in bed because he was sick with a very nasty cold. Mom came in and started to fuss at him. I was awake but neither of them knew it. She said that when he got better he was to repair certain things and after that, "... I'm going to divorce you."
Divorce! That word, "divorce," shot through me. For months and a few years after that I wondered if I would come home from school sometime to find out Dad was no longer home. And, I definitely guarantee you, that if they would have gotten a divorce God would have had a lot more to straighten out in my life, or perhaps that might not come about since I probably would have followed through with suicide in 1969 (or even sooner). There was time when I was a teenager Dad and Mom took me and went to an office somewhere beyond Newark. I was told to stay in the car. Mom was pretty somber when they came back. To this day I have no idea if they went to see a lawyer and, if they did, was it to find out about getting a divorce, write up a will, or something else.
Things seemed to simmer down after a time, and after I came to Christ I tried to witness the Gospel of Christ to them from time to time (see the previous TBT series). And then, about eleven months after I surrendered to Christ they did too! But, did they mean it? While I was in my first year at Holy Bible institute I saw small indicators they did, but it was not until I came home for summer vacation that I saw a MAJOR indicator that they meant business with God.
About fifty years ago as of the date of this post Dad came to the school and brought me home for the summer. After "hanging out" with my parents for a time, I headed up the steps to my bedroom. As I turned at the top steps to go to my room I decided to peek into my parents' bedroom. I then saw a sign that they had permitted God to do a MAJOR FLIP in their lives:
♥ ♥ ♥

THEIR BEDS WERE TOGETHER!

♥ ♥ ♥
I had to go to my room to cry tears of joy and praise God for sending His Savior that can miraculously change lives if people would only let Him.
Think of it. Whatever tallies they had against each other were gone. Gone! In receiving forgiveness from God for themselves they were enabled to forgive each other. The bloodcurdling arguments were gone. The threat of divorce was gone. And just in time for Mom because her time on earth was running out.
Sadly, many who Name the Name of Christ are having great marital difficulties. It ought not to be. Christ can fix things if you let Him, – IF YOU LET HIM. And whether you are Christian or not, God has helped me to produce some pages on marriage that may help you, or the marriage of someone else. You may find those pages at https://oasisofhope.neocities.org/ma00.html .
It is a lie from hell, even if you hear it from your own church or pastor, that a marriage cannot be fixed by God. The Word of God says it can and ought to be done! The Word of God tells the truth. And during the summer of 1971 it showed me someone else did not tell me the truth.
Post 20: Where Is Veronica?
In the previous series, "What A First Year In Christ!," I had written a post where I mentioned that I would occasionally get a lawn chair, grab my Holy Bible, and read the Word of God in our backyard, and there came a time I "about fell out of my chair." I had come across 1 Timothy 4 which begins with
"Now the Spirit speaks expressly, that in the latter times some shall depart from the faith, giving heed to seducing spirits, and doctrines of devils."
It was when I got to verse 3 that I just about fell out of my chair when I read this first part:
"Forbidding to marry, and commanding to abstain from meats."
To this day – to the best of my knowledge – the Catholic church forbids their priest to marry, and they also commanded Catholics not to eat meat on Friday back then (might not be so today).
Well, I got another eyeopener in the summer of 1971. I was home from Holy Bible institute and I was again in our backyard reading the Holy Bible. In my first year at Holy Bible institute I had taken the course "Introduction To The New Testament" during which time Mark was the main Gospel of study in relation to the other Gospels. However, I had not read every bit of Gospels before coming home for summer break in 1971.
So, I was in the backyard, probably finishing the Gospel of John when this question came to my mind: "Where is Veronica?" I even checked whatever concordances I had and I still could not find Veronica.
No, I do not mean the Veronica of Archie Comics. I mean the Veronica I had heard about from the Catholic church. We probably first learned about her when we were introduced to the twelve "Stations Of The Cross." Commemoration of Veronica was on of the stations. The story about her really impressed me as a young boy. In a nutshell, she was a very kind lady who either used her veil or a cloth to wipe the bloody face of Jesus as He went to the cross. One variation states she gave Him the cloth or veil to wipe His face. Either way, the story says when she got the veil or cloth back the imprint of Jesus' face was on it. There are more details to this, but what was really on my mind was that I really liked what she did and had hoped to meet a young lady like her some day.
In my first formative year in Christ I learned that there were all sorts of stories and legends outside of the Holy Bible and the only thing we could really trust as truth was the Holy Bible. So, on that summer day I began to realize that the story of Veronica might not be true. The Stations Of The Cross also commemorate the supposedly three times Jesus stumble on the way to Mount Calvary but, again, the Holy Bible does not record Him as stumbling at all.
In regard to Veronica, the historical evidence is very lacking and based mainly on word of mouth. It is claimed that the Vatican has the cloth which is displayed at least once a year and only for a brief moment. Those who have seen it say it lacks detail. All of this seems very dubious to me. But, what was I to expect from a church system that denies the Biblical truth of Christ's all sufficient atonement (consider Purgatory), has a history of persecuting and killing real Christians, and tried with all of its might to prevent the common man to have a copy of the Holy Bible in their native tongue?
Thank God for the sure Word of God. Its prophecies come to pass, its truths are very demonstrable, and it changes lives to the glory of God when coupled with the Holy Spirit. Those that really know God through Christ have glorious truths to tell to the nations, the most important of which is any one can find salvation in Christ. That was something that my home church, Kearny Assembly of God would do. And, while it is wonderful to spread the Gospel, one has to be on guard as they do so, even in Kearny (in the more gentle 1970s). God willing, we will get to that story next time.
Post 21: What Was In That Soda?
The 1960s were something else. Things seemed to be "going downhill" fast, especially after President Kennedy was assassinated. Things are still "going downhill" fast and the tempo has increased to "break neck speed" in recent years.
It was back in the 1960s that illegal drugs began to really spread. A few years before I came to Christ there was a "drug bust" right on my block in Kearny, NJ. Some young adult, whose parents were deaf, was arrested for selling drugs. I watched from a distance across the street as detectives entered the house. Then, all of a sudden, I heard the mother mournfully yell but in a way she was only able to because she was deaf. Without her framing any words I could tell she was deeply saddened, hurt, and angry at her son as they led him out of the house. I imagine they either told her in Sign Language or in writing why they were arresting him.
I was not a Christian at that time so that was very scary to me that drugs were just a few doors away from my house. Though that level of fear left once I came to Christ, naturally I was still on guard. Faith in God does not mean we have to live stupidly.
If you read back you will see that the idea of being on guard was underscored on various "homework from heaven" assignments from the Christian Service Department of Northeast Bible Institute (NBI). So, such vigilance was continued during the summer witnessing outreaches by young members of Kearny Assembly of God. As you might remember one of our favorite spots to reach the unsaved was the Town Hall Park next to, of course, the Kearny Town Hall.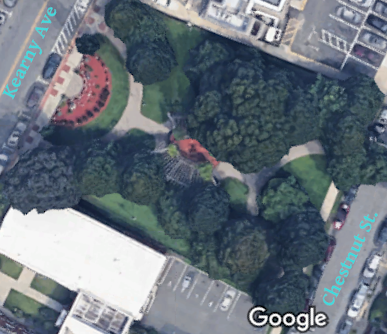 Though the image provided in this post shows a renovated park, you can get a general idea of the layout. The street on your left is Kearny Avenue and the one on the right is Chestnut Street. Given the fact the police station was not far away it was a somewhat safe place to share the Gospel of Christ with people.
We were doing exactly that one summer evening. I was on a bench with someone else as we were telling someone about salvation in Christ. We had a nice conversation going, but then I spied a group of three or four young adults on the other side of Kearny Avenue. They started crossing the street. Were they heading in my direction?
Yes, they entered the park on the avenue side. They were something like the hippies of that era, and were heading down the paved path that would go right by the bench I was on. With my Holy Bible open I just kept talking to the person I was trying to win to Christ. Would this mini hippy group try to disrupt our conversation?
When they got to where we were sitting, one of them offered to me a can of soda – the can was already opened. To this day I have to wonder if my looks gave them the impression I was stupid.
I thanked them, took the can, set it down between my feet and kept talking to the person I was witnessing to. They kept on walking and exited the park on the Chestnut Street side.
I took the can because I figured there was something in it. Had I said, "No thanks," they might have given it to someone else. I kept talking with our prospective convert. After a few minutes, knowing they had left the park I then moved a foot toward the can and knocked it over.
Oooops! How clumsy of me, ha ha!
While all of that would be a logical course of action to take I still give God the credit. Some people lack that logic partly because they screen God out of their life, so in some cases they become prey or cause someone else to become prey.
I do have to wonder was in the can? An opiate? An acid or strong base? LSD? Were they waiting around somewhere to hear an ambulance siren? Only God knows, but I do give Him credit.
To this day if I train someone for evangelism I instruct them to be on the alert, listen to the Holy Spirit, and do whatever the Holy Spirit says.
Well, that was a slightly dangerous encounter in Kearny. God willing, next time I want to relate two safe encounters during my summers away from NBI that would have an affect on me after they cut me loose from NBI. After that, God willing, get ready for what I will describe as "a hoot and a half" for the post slated for 06/24/21!
Post 22: I Do Not Want To Be Like THAT Preacher,
But I Sure Would Like To Do What Jesse Owens Was Doing.
In the previous post I mentioned an iffy situation in a slightly iffy location and how God protected me and perhaps someone else. In this post I want to mention God's workings in a safe encounter and in the safe youth rallies we would attend. He knows our thoughts, and there are times He gives us what we desired and there are times He gives us what we despised, showing us that when He does something it is blessed in His sight.
First, something I despised. It was probably the summer between my junior and senior year at Holy Bible institute that, while I was home in Kearny, I met an independent Pentecostal minister. Seems to me his name was brother Herb Bergeren of Rutland Avenue. He told me I should go independent. I forget what I replied, but I certainly had no desire at that time to go independent.
I despised that thought at that time because I was of the opinion that independent ministers were independent to avoid accountability. I felt you could not trust someone independent. Just who did they answer to? I felt it was a good thing to have brothers and sisters over you. At that time the Assemblies of God (of which I was a member) was, for the most part, Biblically solid.
I would change my mind in about three decades. By the year 2000 I saw both denominational affiliation and independence could be either good or bad. Due to sad circumstances, I felt led to become independent by the end of August 2003. More about that at a later date in a future series, God willing, but hopefully I will post early inroads to that decision in this current TBT series.
The other safe encounter was really a series of meetings, the monthly New Jersey Assemblies of God sectional youth rallies. They were always great! Most often they were headed by our sectional youth leader. At that time the leader was Jesse Owens. No, not the athlete.
Like many other Assemblies of God ministers at that time brother Jesse enjoyed godly humor. I think one time I had the privilege to be in the same car with him when he showed us how to get godly kicks. We pulled up to pay a toll on a highway (lots of toll roads in NJ) and he told us to "watch this." He paid his toll and also the toll for the car behind us. They were quite happy when they found out! There were other godly kicks that he did, but I forgot what they were.
The youth rallies were always rousing and inspiring. They were held in various locations of New Jersey. Sometimes, when there was time before a rally started, we would go outside and invite other young people. There was one time we encountered a shirtless young man but he would not come in without a shirt. I think one of us offered our own shirt, but he still refused.
Back then the rallies always started with the chorus "We Are Christ's Ambassadors":
We are Christ's ambassador's, and our colors we must unfurl.
We must wear a spotless robe, clean and righteous before the world.
We must show we're cleansed from sin, and that Jesus dwells within:
Proving duly, that we're truly, Christ's ambassadors.
When singing the final line and we got to "... Christ's ambassadors" the sectional youth leader would raise his right hand, like he was giving a pledge, and we would do likewise. And when they repeated the phrase, to underscore "proving duly" the left hand would go up, and we would do likewise.
Sadly, such words of dedication went out of style by the 1980s and the theme song was dropped. You know, it was, uh, a bit corny. Actually, I am of the opinion it was too convicting.
However, at that time it was still a good thing to do and none of us were embarrassed about it. And, I thought to myself that I would like to be a sectional youth leader some day. And God knew that thought too.
Well, I was not credentialed by the Assemblies of God (AOG) at that time and I was still in Holy Bible Institute. However, Pastor Bricker of Kearny Assembly of God would have me speak from time to time when I was home. That was fine, I was with people that knew me and I knew them.
I can remember on one Wednesday night I did sermon on Habakkuk, where the prophets starts off by complaining to God about sin among His people and complains more when he finds out how God was going to deal with it. The prophet eventually winds up by trusting God and praising Him. I thought the message went well and I was clear, but one man in the church must have misunderstood because he thought I was saying we should complain about how God deals with situations at times.
Anyhow, for the most part preaching and teaching at Kearny Assembly was fairly comfortable. However, at one point Pastor Bricker had me preach to another crowd. It would be my first public sermon outside of Kearny AOG, and what happened was a hoot and a half! I will tell you about that in the next post, God willing.
©2021 Peter Macinta, you may copy, store, redistribute, UNCHANGED in content and not for sale.